About 18 members of the Class of '56 dedicated a class photo to Springdale Public Schools Thursday, April 28 at district's Administration Building.
"This is the most fun bunch of great representatives of Springdale," Jared Cleveland, Springdale Schools superintendent, said of the graduates. "They just love this place."
The graduates' affection for the district and each other was evident as they swapped stories and participated in some good-natured ribbing at the dedication in the Administration Building's School Board meeting room, which was the Central Elementary School auditorium when the former students attended classes in the building.
Several of the group members shared anecdotes about attending class at Central Elementary, to include stories of the slide that was once used as a fire escape.
"The chute came down out of our class," said Rosa Lea Davis, a Class of '56 graduate. "Mildred Porter was our math teacher. I was scared to death of her."
Nevertheless, if the students finished their assignments and behaved in class, the teacher would sometimes let them slide down the chute, with the girls going first in their dresses, followed by the boys.
Joyce Roberts, a member of the class and a Springdale Schools teacher of 30 years, couldn't help but recall using the slide with a smile, noting she once got turned around on the chute as a fourth-grader and ended up coming down backward.
"I got turned around," Roberts said. "They had just put sand down that morning and I landed on my head."
Roberts retired from the district in 2001 and taught at Central, Westwood, Elmdale and Lee elementary schools, she said.
"I think I'm the only graduate who stayed here as a teacher," Roberts said.
The picture dedication in the building was particularly special moment for the graduates, Davis said, as the original copy of the photo was destroyed in a fire at Springdale High years ago.
Bob Johnson, a Class of '56 member who now lives in Oklahoma, commented on how nice the dedication was, noting he travels to Springdale monthly to meet with his former classmates.
About 29 members of the original 119 graduates of the graduating class meet routinely at 1 p.m. on the last Thursday of the month at Wagon Wheel Country Café in Springdale, Davis said. The group doesn't meet in November or December.
The Springdale High graduates have been meeting monthly for more than a decade, she said.
"We meet because we want to keep up with our classmates," Davis said. "We love our classmates."
Class graduates went on to serve the region as doctors, lawyers, teachers and School Board members, she said.
"We are the class of '56, and we are a wonderful representation of Springdale High School," Davis said.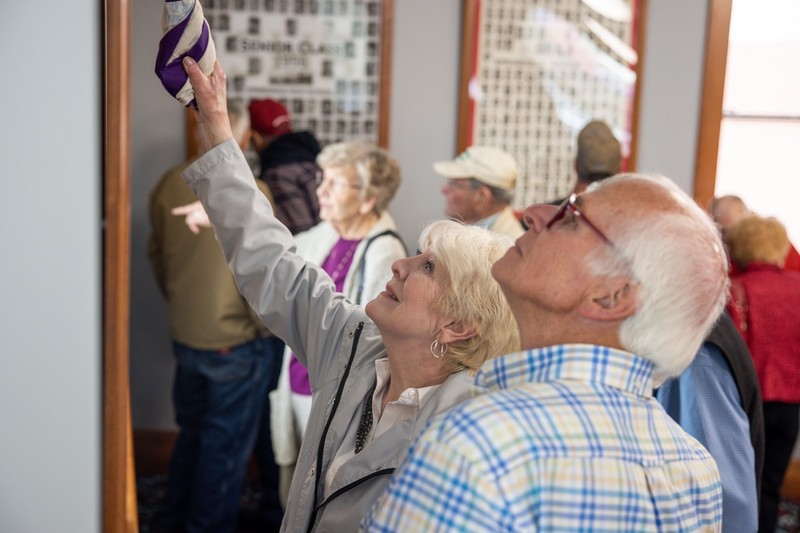 Click here to learn more about the History of Springdale High School
Click Here to explore Historic SHS Through the Library of Congress